UltraCap Trading is an Australia-based firm specializing in the recruitment, profiling, and management of top-tier retail trading talent. We serve as a comprehensive platform that simplifies the intricate landscape of trading and investment.
Here's how we do it:
For Traders:
We offer a technology-driven platform where traders can showcase their skills in a real-world simulated environment. Those who meet our criteria are offered contracts to trade on live funded accounts. These accounts feed into our overall live funding pool, becoming part of a unique ecosystem managed at a macro level.
For Funding Partners:
We provide a secure and transparent portal where our funding partners can access high-quality, anonymized trading data. This data is generated by our contracted traders and processed through our proprietary AI Risk Management Platform. This enables our partners to use their private equity to generate their own returns in a unique and secure manner.
Streamlined Process:
We eliminate the complexities often associated with the trader-investor relationship. Our technology handles the heavy lifting, allowing traders to focus on trading and our private equity partners to concentrate on risk management and technology, rather than HR and compliance issues.
By serving as this essential bridge, UltraCap Trading creates a mutually beneficial ecosystem for both aspiring traders and private equity ventures. We maintain the highest standards of transparency and ethical conduct throughout this process.
Distinct Approach:
Unlike traditional proprietary desks and online trading firms, UltraCap Trading focuses exclusively on the meticulous management and organization of trading talent. We execute pooled strategies into consumable, risk-managed outputs that our partnered institutional and high-net-worth parties can leverage. We offer a streamlined platform that fosters a synergistic relationship between traders and investors. Traders are provided with bona fide career contracts, governed by stringent financial regulations. Meanwhile, our private equity subscribing partners gain access to a platform designed to effortlessly harness the potential of retail trading talent. This approach eliminates the need for complex risk management, resource allocation, and the legal intricacies often associated with such ventures, thereby reducing operational costs and complexities.
Australian Company Registration: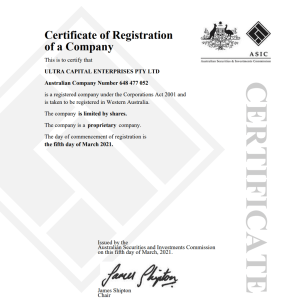 International Legal Entity Identifier Registration: